La televisión busca más superhéroes, y el archivo no se acaba nunca. Ahora les toca a los compañeros. El universo de DC Cómics, responsable de
Batman
, Superman y
Wonder Woman
, sigue ampliándose en televisión con
Titans
, la primera serie, para su propia plataforma, y la ficción dedicada a
Batwoman,
en The CW. Ambas producciones llegan de nuevo de mano del productor Greg Berlanti, que tiene 15 series actualmente en producción (récord histórico) y que ya llevó adaptó en este universo de
Black Lightning
,
Constantine
,
Supergirl
,
Arrow
,
The Flash yLegends of Tomorrow
. Precisamente de un cruce entre estas últimas cuatro ficciones del próximo otoño nacerá la serie dedicada a la mujer murciélago, que además será la primera superheroína lesbiana en protagonizar su serie.
Ha sido en el primer día de la Comic-Con de San Diego y DC ha comenzado a mostrar sus cartas televisivas, que ahora se expanden hasta su propia plataforma bajo demanda para competir con gigantes como Netflix o Hulu. El servicio, de momento solo disponible en EE UU, incluirá también los cómics de la editorial y series clásicas como
Batman: la serie animada, Batman del futuro,
la
Wonder Woman
de Lynda Carter y las películas protagonizadas por Christopher Reeve de
Superman
. La suscripción anual será de 74,99 dólares y la mensual, 7,99.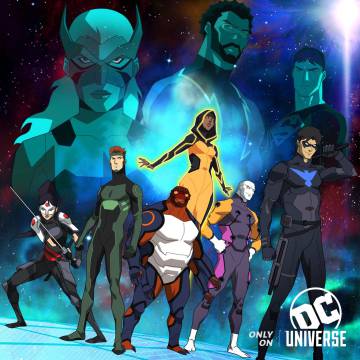 Titans, serie que cuenta las aventuras de un grupo de superhéroes conocidos como Los jóvenes Titanes en los cómics y liderado por Robin (ayudante de Batman que acabó siendo Nightwing). El personaje interpretado por Brenton Thwaites se presenta en el primer avance con un contundente "fuck Batman", cuando un criminal pregunta por él. La serie, con una estética que intenta replicar a la trilogía de Batman de Christopher Nolan (que siempre se negó a presentar al acompañante adolescente del héroe) introduce también a superhéroes como Starfire (Anna Diop), Raven (Teagan Croft), Beast Boy (Ryan Potter) y Halcón y Paloma (Alan Ritchson y Minka Kelly). La plataforma estrenará también series dedicadas a Doom Patrol y Swamp Thing, el clásico de terror de Alan Moore, así como la tercera temporada de Young Justice, protagonizada por muchos de los mismos personajes de Titans. Mientras en el cine la progresión del universo DC está siendo más complicada, la televisión no parece ver el horizonte.
Aca les dejamos el trailer:
No se olviden de visitarnos en:
Facebook.
Instagram.
Twitter.
Y suscribirse a nuestro canal de YouTube.
La Esfera Cómics.